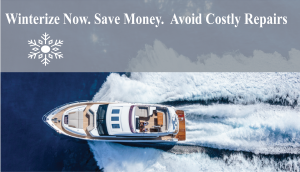 Winterize Now & Save!
$229.99 Boat Winterization Special
It's that time of year again!  Time to make sure your boat is well maintained and prepared for the winter months.
We will prepare your boat to be tucked away for the winter months and be ready to hit the water again in the spring!
Fill out the form below to request your spot and we will contact you to set a time!
Includes:
– 5 Gallons of non-toxic anti-freeze
– Fuel Stabilizer
– Disconnect battery on all inboard and stern drive engines